This month we feature CADE and their work throughout Otsego County.
CADE, the Center for Agricultural Development & Entrepreneurship, has worked with farmers and farm-based food businesses in Otsego County, and more recently throughout the state, to create and maintain a thriving food system for over 30 years. CADE offers free services to farmers and local food processors in areas such as finance, business planning, product development, marketing, access to capital, farmland access, and more.
CADE's mission is to increase the number and diversity of successful farm enterprises and related businesses in New York; and to build a vibrant food system in which local ag businesses thrive and consumers enjoy healthy, sustainably produced food.
Recently, with funding support from CFOC, the organization brought together groups across the state to build a plan and roadmap for realizing a more profitable, regenerative, equitable, and healthy food system in New York State by 2050, captured by Vision 2050. The aim is to set the agenda for New York's political leaders.  CADE's Executive Director, Phoebe Schreiner, presented a well-received Tedx Talk, "Why America Needs a New Foodshed" that championed the Vision plan.
In 2020, also supported by CFOC, CADE partnered with the Hunger Coalition of Otsego County on the "Farm to Pantry" project which managed partnerships between local farms, food producers and Otsego County community members faced with food insecurity during the pandemic. With 17 farms and food producers participating in 3-6 drop-offs each week, close to 500 pounds of local farm products were delivered weekly, reaching over 2,000 community members throughout the project. The project continues to grow with the support of another local funder thanks to the initial grant from CFOC.
CADE has served over 2,500 farm and food business clients in its history and in the past year worked one-on-one with 98 farm and food businesses, 14% of those calling Otsego County their home. One is Sleeping Lion Farm of Cooperstown where CADE assisted owners Mike and Micah Parker on their grass-fed beef enterprise which includes specialty deli meat products. "CADE and SUNY Cobleskill's Farm and Food Business Accelerator program has been amazing," says Mike, "especially the connection to SUNY Cobleskill's meat processing testing facility, the food safety support, and the overall encouragement."
Executive Director Schreiner says, "New York's farmers are so important for our rural communities – they not only keep us fed with our most important public good, FOOD, but are also drivers of our local economies, stewards of our natural resources and landscapes, keep our watersheds clean, and for those using regenerative practices, sequester carbon to mitigate climate change. We appreciate that CFOC recognizes and values local agriculture and our local food system as a fundamental pillar of a thriving Otsego County."
To help support CADE in building a vibrant, sustainable food system in Otsego County and throughout New York State, visit cadefarms.org.
Content provided by Phoebe Schreiner.
Related Post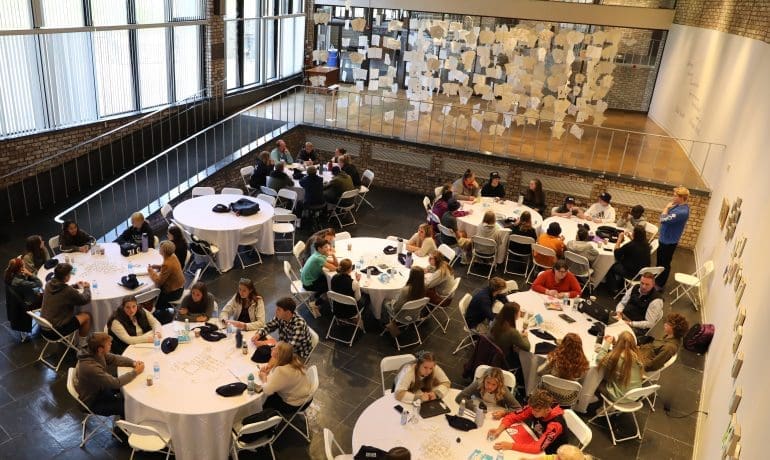 September 22, 2023
For the first time, all students participating in Student